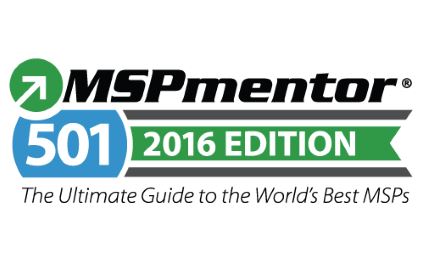 9th Annual MSP 501 Ranking and Study by MSPmentor Identifies World's Most Progressive MSPs in Information Technology
June 13, 2016 – For the third consecutive year, Techify Inc. has been ranked one of the top Managed IT Services Providers (MSP) in the world by MSPmentor. The report and research study ranks the top 501 MSPs globally.
"This is a great honour to be on such a prestigious list three years in a row," said Brendan Howe, Techify's CEO. "Our team of Techifites deserves all the credit for implementing the processes and technology that delivers great results for our clients to save time and reduce risk."
Techify is part of only a small group of Canadian MSPs who have made the list over the past three years.
"On behalf of Penton and MSPmentor, I would like to congratulate Techify for its recognition as an MSP 501 honoree," said Aldrin Brown, Editor in Chief, MSPmentor. "The managed service provider market is evolving at a rapid pace and the companies showcased on the 2016 MSP 501 list represent the most agile, flexible and innovative organizations in the industry."
The 2016 MSP 501 list is based on data collected by MSPmentor and its partner, Clarity Channel Advisors. Data was collected online from March through April 2016. The MSP 501 list recognizes top cloud service providers based on metrics including recurring revenue, growth and other factors.
About Techify Inc.
Techify is a Toronto-based boutique managed IT services firm that saves people time and reduces risk with better IT support. With the Techify Way, we have a unique approach to technology costs and results. Our clients effectively manage their IT strategy in four hours or less per year and receive fast day-to-day support with our 5-minute response time guarantee.
About Penton's channel brands
Penton's channel brands (www.penton.com), define emerging IT markets and disrupt established IT markets. The brands' channel-centric online communities include MSPmentor (www.MSPmentor.net), The VAR Guy (www.TheVARguy.com), Talkin' Cloud (www.TalkinCloud.com) and the WHIR (http://www.thewhir.com).
For more information:
Brendan Howe
(416) 913-8998
www.techify.ca