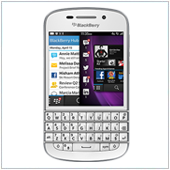 There's good news this week for long-suffering Blackberry users who haven't yet upgraded to the new Blackberry – a new model with a keyboard will be out by the end of the month.
I have spoken to many Blackberry users who are loyal to the once-popular Canadian device but haven't yet upgraded because they're either locked into a contract or they want to have the device with a keyboard. The Z10 came out recently but without the keyboard many Blackberry users have gotten used to and cite as the reason they don't want to switch to other devices.
Blackberry's new Q10 will be available from the major carriers on April 30, and they're already taking pre-orders for the device.
You'll see from the picture with this blog that it looks similar to existing Blackberrys but with the new Blackberry 10 operating system. This should help all those out there who don't like typing on a touch screen device.
We've had a Blackberry Z10 in our office since it came out and we're quite impressed with the device. It's definitely put Blackberry back into the game allowing them to compete again. Previous issues like slow websurfing are fixed, social media integration is strong and clunky BES servers aren't needed any more. There is still, however, a big lack of apps for Blackberry when compared to Android or Apple devices but many Blackberry loyalists seem to be able to deal with this.
Overall, it looks like this could be the next step in Blackberry's resurrection. If you're thinking about getting a Q10 but aren't quite sure, give us a call and we can help you with your decision or help you get it set up!
Written by Brendan Howe