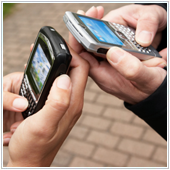 If you currently have a Blackberry, you're probably in one of two camps:
You've always used Blackberry, gotten used to it and couldn't imagine switching to a different device.
You're a great Canadian and loyal Blackberry user who wants to support the company to see it succeed.
If this is the case and you haven't already ordered a new Blackberry, you're probably considering it. You've held on to your Blackberry though some dark times, you should be rewarded now shouldn't you?
Here are some reasons why you should pull the trigger on that Blackberry upgrade and stick with the smartphone maker that you've been so loyal to.
Websurfing – through some divine intervention, Blackberry has FINALLY made web surfing work properly on one of its devices. It's now fast and works as well as its competitors.
Bye Bye BES – you no longer need to have a BES server at your company to get full functionality of the new Blackberry. It can use Exchange Active Sync to wirelessly sync your calendar and contacts. While this isn't as secure as BES, it's what every other phone uses so to most people this won't be an issue. And it's waaaaaaaaaay easier to setup.
Better interface – it's a pretty cool device with a much improved interface. The Hub is an interesting concept for bringing everything together and it's a lot easier to do social media activity through the phone than previous ones.
Separate work and play – with the new trend of BYOD (bring your own device) into many companies, the Blackberry's ability to truly separate your work stuff from your personal activities is innovative and should go over very well with lots of companies and individuals.
They're back in the game – Blackberry has set sales records for the launch of the Z10 so it appears they're not sailing off into the sunset. In fact, CEO Thorsten Heins looks to have a strong and clear vision of where he's taking the company and how Blackberry fits into the future of mobile computing.
If you've switched to another device like I have, it may take a little more to win you back. Keep in mind I'm writing this blog specifically for people who still have Blackberrys.
Have I convinced you?
Now your only choice is whether to go with the fully touchscreen Blackberry Z10 or wait until later this spring for the one with the keyboard.
If you want to try out the new Z10, we have one in our office. Give us a call or drop by!
Written by Brendan Howe