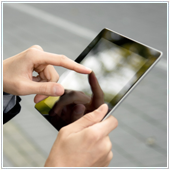 Well I did it to myself. After over 20 years of supporting Windows computers, one would think that diving into a brand new version of Windows – and dragging my family with me – is the last thing that I would do. But dive I did, and so far, so good.
Over the holiday season I added four Windows 8 devices to the family network, a Lenovo Twist Convertible Ultrabook , a Lenovo Tablet 2 Tablet, a Microsoft Surface Windows RT Tablet and a Nokia Lumia 920 Windows 8 cell phone.
I will begin with the Twist which was a Christmas gift for my wife. She is primarily a social media user, photographer and email user. She is quite pleased with the size, form factor and battery life of the system, we all agree it is an incredible device. There is a learning curve with the Windows 8 Metro interface, she still struggles with finding where things are occasionally, but having a touch screen really adds a dynamic new layer to the computing experience.
My 10 year old daughter wanted a MacBook and the Microsoft Surface was the compromise. She quite likes the portability, enjoys playing games, writing email and using Skype. She thinks it is cool, but I recognize some of the elements that make this a real gem. The magnetic cover that snaps to the side doubles as a laptop keyboard complete with touch pad. An integrated kickstand flips off the back to hold it upright when sitting on a table or desk. Add a magnetic power connector (like on the MacBook) and a version of Microsoft Office 2013 RT – it is a perfect laptop replacement for home or school. With a Windows 8 Pro version coming out shortly, I will likely be getting another for my older daughter to use in high school next year.
I often compare the Lenovo Tablet 2 to the Surface and find myself jealous of the keyboard cover and magnetic power connector, however the fact that it is lighter, thinner, runs the full version of Windows 8 Professional and includes a full-sized USB port and pen input balances things out. This is one powerhouse of a device. Compatible with current and legacy Windows applications, it is the perfect system for professionals on the go who want the convenience and portability of a tablet, but cannot give up key desktop applications like Project, QuickBooks, or other key line of business applications. It can be managed like any corporate desktop and offers a host of productivity tools lacking in many other tablet devices on the market.
The last device to cover is the Nokia Lumia 920 Windows 8 Phone. I was a BlackBerry user that switched to Android; however it never felt natural to me. I decided to take a chance on this device and hope that it was a better fit, and I am pleased to say I am extremely happy with it to date. It feels more together and natural than Android, and although the device is large and heavy, the battery life and number of hardware features that are packed into it more than make up for the added size and weight.
To conclude, Windows 8 has turned out to be a win in my household. While I do not believe that it is a good choice for an office desktop, stay with Windows 7 Professional, it makes a great deal of sense for home use, particularly for social media, student use and in the case of the phone, if you're unhappy with Android but unwilling to go iPhone. Get out to the Microsoft Store in Yorkdale Mall to see the Surface and the selection of Windows 8 phones or speak to us about the Lenovo Twist or Tablet 2 devices .
- Written by Stefan Kanitz